North American Studbook Ambassadors
Czensation (Balta'Czar – Coriana (Coriano))
2022 Filly
Bred and Owned by Abby Jeter
Sallie B. Wheeler/USEF/USHJA Hunter Breeding National Championship
2023 Overall Grand Champion Best Young Horse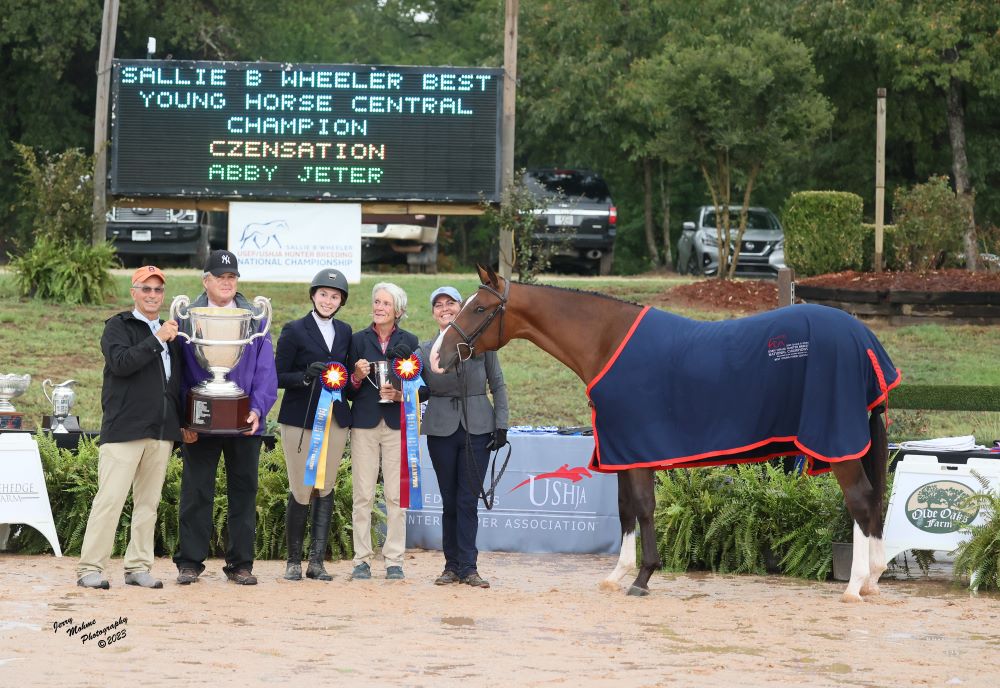 Welcome to the North American Studbook
NAS was established with the single purpose of assisting the North American sport horse breeder to better compete in the domestic and international marketplace. It was created by a small group of seasoned breeders and professionals who have a keen insight into the hurdles facing North American breeders, coupled with a strong understanding of the European means to achievement.
By employing the success-proven strategies that have fueled the European rise to its preeminent state in the sport horse world and adapting these standards to the unique advantages and challenges of our market, the NAS brand has become synonymous with quality and performance success with both breeders and competitors.
NAS is also dedicated to support the industry at large by helping all horses to have positive ID. We offer comprehensive solutions in our Auxiliary and Certificate of Pedigree Books  for horses in need of positive ID or that are not eligible in the main book.
News and Announcements
2022 NEW FEES:
Due to a constant rise in prices for most everything around us, we have been obliged to raise our fees as well. We remain very competitive on the market and hope that you will understand that this step was necessary for the benefit of everyone.
We wish you all a very nice Holiday season.
The NAS Team
In response to recent concerns about Warmblood Fragile Foal Syndrome * (WFFS), the North American Studbook is recommending testing of mares
and stallions for their breeding members.
We will be happy to post your stallion's status on our website
upon obtaining confirmation of their carrier status.
We will also be offering facilitated WFFS testing to members
who are registering foals starting this foaling season.
We will be closely following WBFSH policies on this issue as they develop.
AS of 2018, all newly approved stallion with NAS will be tested as part of the approval health exam and their results will be posted on the website.
*"Warmblood Fragile Foal Syndrome (WFFS) is an autosomal-recessive trait, meaning a foal can only be affected if that foal inherits the disease from both parents. Parents that are carriers do not have any symptoms associated with WFFS. However, they will pass on a copy of the defective gene to their off- spring 50% of the time whether bred to a carrier or a non-carrier and regardless of the foal's gender. If two carriers are bred, the foal has a 25% chance of being affected (a death sentence) and a 50% chance of being a carrier."
-Breeding News for Sport Horses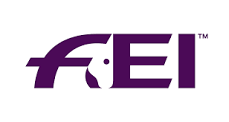 The North American Studbook is now offering a full equine passport! The passport includes all registration information, pedigree, DNA and more. It also has convenient pages for all your medical and show records, approvals and Federations record. All anyone needs to know about your horse in one elegant and simple booklet! If you already have NAS registration papers, you can upgrade to a full passport if you wish to do so. Contact the office for more information. Huge thank you to our passport sponsor Johnson Horse Transportation!
Full Passports Now Available!
NAS welcomes three new Directors to the board! Their lifetime of experience across all facets of the equine industry are a valuable addition to the studbook.
Domestic and International Regulations Director: Martin Douzant - VA
 Stallion/Sports Director: Shane Sweetnam - FL
Members/Breeders Director: Jessie Hillegas - PA
CARRASCA Z - Taylor Flury - See Licensed stallion page for info
CORIANDOLO DI RIBANO - Tequestrian Farms - tba
MR VISTO - Tequestrian Farms - tba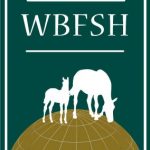 The North American Studbook is proud and excited to announce that it has been accepted as a full member of the World Breeding Federation of Sport Horses at their General Assembly on Wednesday
October 14th
.
The whole NAS team is looking forward to serving you and your needs as usual.
Together we can grow and support North American breeders and its young sport horse industry.
The pillars of the NAS brand are four-fold

Registry standards of quality are assessed by top sport horse breeders, judges and professional competitors. While these standards are consistently and stringently applied, the NAS assesses each horse as an individual so that quality breeding stock is not overlooked. Standards encompass not only bloodlines, conformation and athleticism of the horse, but also the performance career and progeny of the horse.

A major function of the NAS is the educational support of the North American breeder. Whether a Keuring, a sponsored-seminar, a sport horse auction or the website, the NAS ensures that each is rich with information and experience so that learning continuously expands for all members.

The NAS gathers, compiles and assimilates data and information for members' registered horses. In the current North American market, the link between the breeder and the adult horse they bred is often broken and information is lost. One of the primary goals of the NAS is to foster a stronger link so that breeders' are able to track the horses they have bred.
In 2018, Microchiping will be mandatory for all new registered NAS horse.

NAS serves mare and stallion owners in a friendly, clear and most importantly, collaborative manner without bias or politics.
We welcome comments, ideas and suggestions.
Feel free to email us or call us.
A single voice with a single message to support the North American breeder: NAS is an advocate for the North American sport horse breeder in its vision, its communication, its policies and procedures.