About Quidam Junior
1996 Dutch Warmblood stallion
16hh Bay
Gifted with a "lion's heart," and the speed, agility and jump befitting a Quidam de Revel son, Quidam Junior attacks the biggest tracks with zeal and ride-ability. Imported to the US in 2007, Junior proved himself in rapid fashion to be a valued and trustworthy partner who gave his all "100% of the time." He won at the Kentucky National, placing 4th in the Kentucky Summer Grand Prix, and competed in World Cup qualifiers. His character and abilities impressed Spy Coast Farm's owners to such an extent that they subsequently purchased the stallion for their daughter as her Junior Jumper.
It is not often that the legendary Quidam de Revel takes second billing in a pedigree. But, in Junior's lineage, that is exactly what happens. Junior's dam line is the top mare line in the world as rated by the World Breeding Federation. His dam, Narcotique, like her dam before her, was an international Grand Prix jumper as well as the mother of 7 foals, all of whom jumped to the Grand Prix level. Not to be overshadowed though, Junior's sire, Quidam de Revel, enjoyed one of the longest and most prolific sport careers of any stallion, while simultaneously becoming on of the preeminent sires in modern sport horse breeding. The genetic value that is united in Junior's pedigree through his sire and his dam is undeniable.
Quidam Junior not only offers North American breeders a unique opportunity to access Quidam de Revel blood in a very rideable package, but more importantly, he provides ready access to the top producing mare line in the world. A first for American breeders!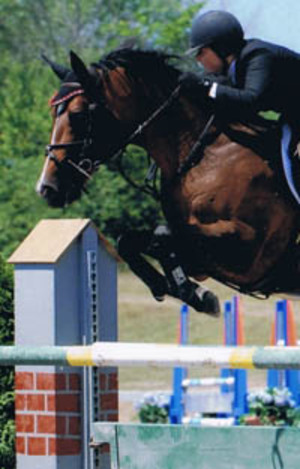 Contact Information
Accomplishments
Imported in 2007, Quidam Junior competed with both Shane Sweetnam and with junior rider, Julia Lourie.
Junior is returning to the competition ring in the Junior Jumpers in 2010 after a stifle injury sidelined him in 2008 and 2009. He will begin showing at WEF.
2007
1st $5,000 Open Jumper Level 8, Kentucky National (shown by junior rider)
1st $2500 Junior/AO Jumper Classic, Horse Shows by the Bay
3rd Low Junior/AO Jumper, Horse Shows by the Bay
4th Low Junior/AO Jumper, Horse Shows by the Bay (Series II)
4th IHP $40,000 Kentucky Summer Grand Prix
5th $5,000 Junior Jumper Classic, Hampton Classic
9th Country Heir Welcome Prix
9th IHP $40,000 Kentucky Classic Grand Prix
9th IHP Russell Fortune Jr. Memorial Grand Prix
8th $20,000 1.5M Classic Kilkenny/IEH Internationale
12th Bluegrass Classic
2006
1st Scope Festival 1.4m Preliminary Round 1
2nd Scope Festival 1.4m Preliminary Round 2
1st Champions of Scotland
1st Grand Prix Weston Lawns
2004-2006: Injured and recovered from broken pelvis sustained during a severe trailering accident.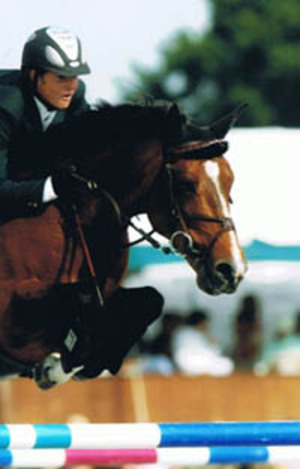 Pedigree
O QUIDAM JUNIOR (QUIDAM JUNIOR)
SF
1996 bay 1.64m
QUIDAM DE REVEL
SF 82604507R Stb.
1982 brown 1.68m
JALISCO B
SF 75000588W
1975 brown 1.74m
ALME Z
SF 1966
TANAGRA
SF 1963
DIRKA
SF
1969 darkbrown
NANKIN
SF 1957
ONDINE DE BAUGY
SF 1958
NARCOTIQUE
SF
1979 chestnut
FAIR PLAY III
SF
1971 brown
QUASTOR
SF 1960
MA POMME
SF 1956
BOURREE
SF
1967 chestnut
NICKEL X
AA 1951
TROMPETTE
SF 1963

Quidam de Revel has sired many brilliant performers who have inherited his amazing sporting ability. Even today, he is still one of the best ambassadors of French breeding across the international community with his formidable genetic heritage:
He combines two of the most important lines of Selle Francais breeding which have ever existed: Jalisco B (v. Alme) and Nankin.
Before retiring as a broodmare, Quidam de Revel's dam, Dirka, jumped internationally with Nelson Pessoa. Dirka represents one of the most famous mare families in France. The line has been prolific producers of breeding stock and competition horses, including the remarkable French stallion Uriel. Dirka herself is the mother to nine foals, including two full sisters of Quidam de Revel.
Proving his tremendous value in the production of top level jumpers, Quidam de Revel has consistently been at the top of the World Breeding Federation ranking of jumping sires. In 2009, Quidam de Revel was the #2 stallion in the ranking of jumping sires. His son, Nabab de Reve, finished #5, repeating the Father-Son performance of 2008.
As a competitor, Quidam de Revel was a pillar of the French Team. Just 10 years old in 1992, he was a member of several French Nations Cup teams and the French Olympic team in Barcelona winning Team Bronze and 4th place individually. He also won the Grand Prix of Barcelona and the Grand Prix of New York in 1992. In 1993, the stallion was purchased for an undisclosed sum, believed to be a record high at the time. In 1996, under the then inexperienced rider Tomas Velin, Quidam de Revel proved his rideability by placing second in the Grand Prix of Copenhagen and 4th in the Young Riders European Championships. He continued to win at the Grand Prix level until his late teens.

According to the WBFSH (World Breeding Federation of Sport Horses), the mare family from which Quidam Junior stems is the Top Mare Line in the World. His dam, Narcotique, was ridden in international Grand Prix competitions for the French Nation's Cup Team. She won the CSIO in St. Gall, Switzerland in 1989 and the jumping derby at Bois-le-Roi in 1992. The amazing Narcotique also had seven offspring (via ET), all of whom found their way to Grand Prix ring! Four of Narcotique's foals are approved stallions (Gentleman IV, Grand Rivage, Haut Rivage and Quidam Junior). The root of the mare line comes from Quidam Junior's second dam, Bouree, who herself was an international Grand Prix jumper and who produced an extraordinary 11 Grand Prix jumpers (via ET).
Narcotique's sire, Fair Play III, died at a young age but not before he produced a number of exceptional competitors. His legacy in French breeding is carried on by his most famous son, Narcos II, who amassed 178 victories, 567 placings and total winnings of 2.4 million Francs. Narcos II is regarded as a stallion of "high class" with numerous successful offspring, the most familiar to North American breeders being Twist du Vallon, the Horse of the Year in 1998 with McLain Ward.
Progeny
To date, the focus of Quidam Junior has been that of a competition horse. He has been lightly bred in Europe and in the United States. 2009 marked the emergence of Quidam Junior's first offspring in under saddle competitions. In Ireland, two offspring qualified for the Finals of the 2009 National Jumping Championships.
The success, talent and trainability of his offspring are placing great demand by Europeans on the frozen semen of Quidam Junior.
Breeding Recommendations:
Quidam Junior has a rectangular frame with a strong, but longer, flexible back, a long stride and good rideability. He requires a medium to tall mare with good length of leg. Just as his sire does, Quidam Junior requires a mare that transmits blood. He is an excellent choice for mares that require carefulness and better jumping technique.
We do not expect Quidam Junior to add length of leg or shorten the back.
Progeny Details:
MHS Automatic
(Quidam Junior / Diamond Serpent / King of Diamonds)

Intoxicate
(Quidam Junior / Wagenaar / Jalisco B)